Useful web to make a report on SEO readiness.
Free for one report only for a week. For this reason, I'll move over to the alternative that's 'grader'.
2. http://marketing.grader.com/
Free for unlimited sites. Good thing about these is the report is including advices to how to improve the SEO friendliness.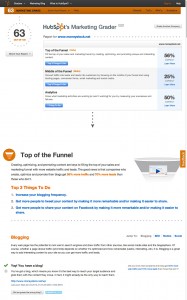 3. http://www.google.com/analytics/
Basic of basic, just a must. No need to explain.
4. https://www.google.com/webmasters/tools/home?hl=en
Good to know this for SEO. This is another must have.
5. YSlow is chrome extension to use, if the site is slow or want to make it lean.